After nearly a decade working in the beauty industry, I've interviewed countless makeup artists and creators from all over the world. The one thing in common they all have is a simple piece of advice: If you want to do your makeup like a pro, start by learning how to make the most of your features.
If you feel a bit lost in the current makeup mayhem, fear no more. Rae Morris has just launched Makeup Masterclass, a 400+ page beauty bible featuring detailed instructional guides for every beauty woes you could ever muster, customized color charts and over forty step-by-step demonstrations on the faces of some of the most recognizable top models.
Source: Rae Morris
As a beauty reporter I'm constantly bombarded with all sorts of novelties, techniques, and the next "must-have" for the season. I know how hard it's to keep track of all the latest trends, especially when everyone else is looking so rad and contoured to perfection on social media. However, I believe makeup is something to have fun with (and not something to worry about!) Rae Morris' Makeup Masterclass picks up on this idea and helps you explore the awesome world of color with the expert guidance of the longest-serving makeup director for L'Oreal Paris.
Source: Rae Morris
Rae Morris' Makeup Masterclass is divided in nine easy-to-follow chapters:
Chapter I (Makeup Kit) explores the tools of the trade, what you need, and what you can toss. Yes, you read right. Toss. Because maybe you're not investing in makeup basics and spending your money on complex tools you'll very likely never use more than once.
Chapter II (Skin Prepping) shows you how to prep your skin right so your makeup looks great and lasts longer.
Chapter III (Foundation) devotes over 20 pages to exploring what is the right foundation for your skin tone and type, and explains the art of concealing, bronzing and highlighting in plain English.
Chapter IV (Contouring) demystifies a technique that has been used by makeup pros for decades. If you are like me and don't have god-given sculpted cheekbones, you cannot miss Morris' easy-to-follow advice.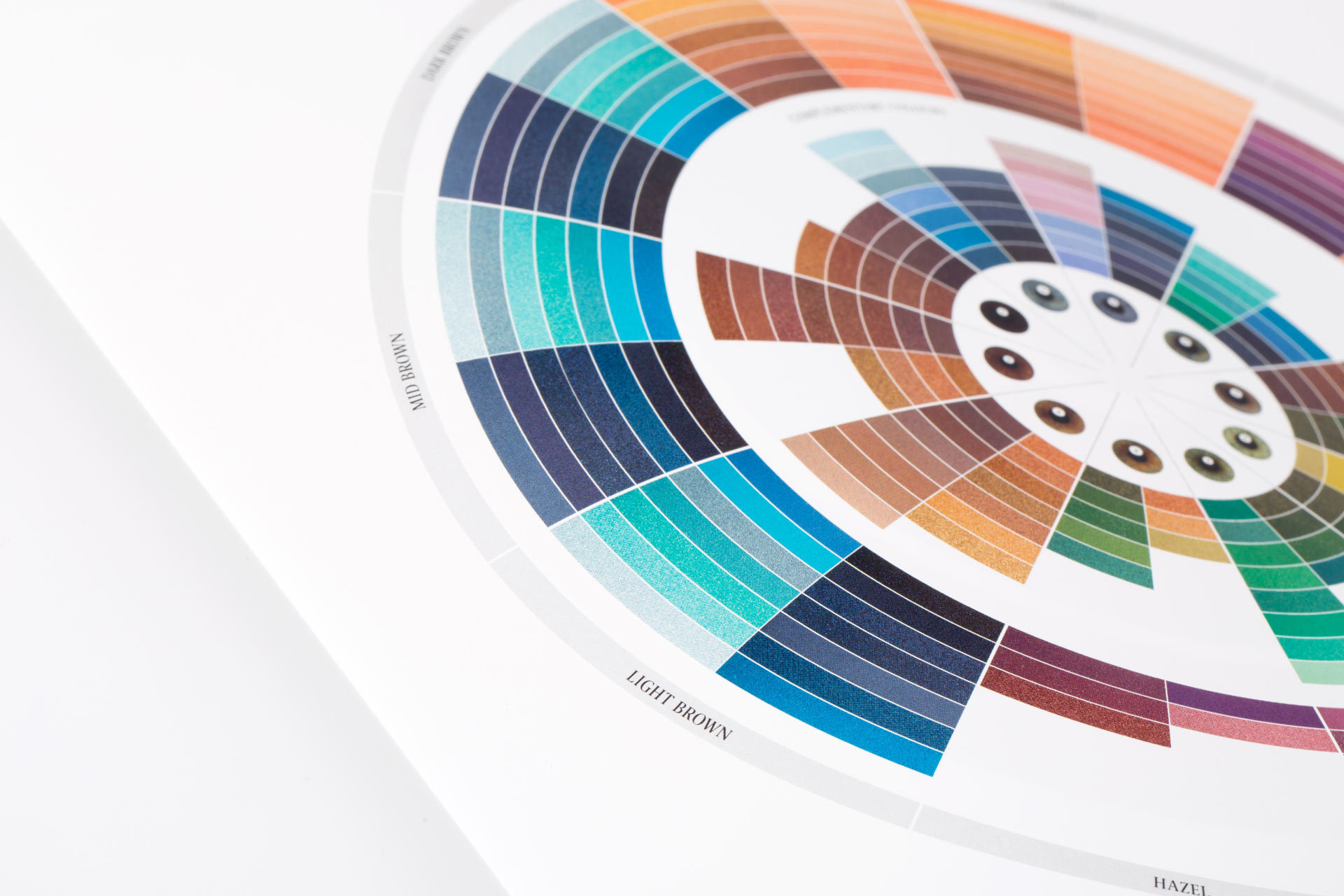 Eye color charts. Source: Beautylish
Chapter V (Eyes) constitutes a whole different book in itself. With extremely well-described instructions to discover your eye shape and the most comprehensive color charts, it will take your makeup game to a totally different level. I personally carry with me a color copy of my personal chart when I go buy makeup, and I'm exploring totally new combinations with my newly-found intensifying colors!
Chapter VI (Lips) is devoted to helping you choose the right lip shade, troubleshoot common issues and care for your lips as they age.
Chapter VII (How We Age) will give you key steps to looking ten years younger in a heartbeat (and no plastic surgery!)
Chapter VIII (Quick Fixes) shows you how to keep your makeup fresh while on the go
Chapter IV (Makeup Looks) contains forty-two different makeup looks gorgeously illustrated with high-resolution pictures and clear step-by-step instructions. From natural to borderline fantasy, this chapter revives some of the most coveted makeup trends without all the fuss.
My Verdict: This is one of the most comprehensive makeup books I've ever read. With extremely easy-to-follow charts and chapters, it's a great gift for anybody willing to have fun with makeup, regardless of their level of expertise. The forty-two looks recreated are varied enough to try something new every weekend of a whole year, and will surely provide countless hours of fun and self-discovery to the recipient.
The Deets: Rae Morris Makeup Masterclass is available in a limited-edition color print format ($53.71), and a digital version for iPad ($15.34) and iPhone ($4.70) and can be purchased through major retailers and Rae Morris' website. The digital editions include over three hours of video tutorials to complement the written instructions.
Disclosure level 1: The author received NO compensation to write this post. The author
received a review copy of the book, which did not
influence the content of this article nor the decision to feature it. The article contains NO affiliate links.