Finding a slot on Instacart or Amazon Fresh is virtually impossible. Because a girl needs to eat, have you checked out these cool meal delivery services that deliver food to New Yorkers?
With the Covid-19 pandemic, more and more New Yorkers are reporting problems when trying to buy groceries online. While most delivery services aren't working properly, those that do have a long list of backlogged orders. So what does a girl gotta do to get some food while keeping a strict social distance? Enter meal delivery services.
Meal Delivery Services: Pros and Cons
Prepared by professional chefs, meal delivery services have the advantage of being a one-stop solution to your feeding woes. You get fed, and you don't have to cook. Because, if you are a true New Yorker, you rarely cook in your miniature kitchenette anyway!
Meal delivery services are also a great way to send food to your loved ones. Let's say that you have a family member or friend who has preexisting conditions and shouldn't go out to get groceries. Or a really stubborn dad that threatens you with going out without a mask because they are uncomfortable. This is when a meal delivery service makes a great gift and gives you a big chunk of peace of mind, which is priceless.
In terms of cons, meal delivery services might have minimum order requirements, and you might want to try the food yourself before you send it to your loved ones. Also, these services tend to require that you place your order by a certain day of the week to have it delivered the following Monday.
And while that sounds like extra work, in reality they take much less than the average grocery delivery right now. If you don't believe me, we can chat about my Instacart delivery that took 3 weeks to complete. And came with less than half the groceries that I needed.
Freshly: Weekly Meal Subscription with Chef-Cooked Recipes
Freshly is a very cool meal delivery service that delivers perfectly-portioned individual meals, which are cooked by a chef from scratch with homemade recipes.
Freshly, as it name says, delivers fresh meals that are naturally gluten-free, have no added sugar, and include local and wholesome ingredients.
Unlike meal kits, all you need is a microwave, a fork, and a plate (optional) to get a tasty dinner or lunch on the table in minutes.
Freshly offers a rotating menu with 4 types of boxes: 4 meals, 6 meals, 9 meals or 12 meals that are all single-serving. A few examples of meals that caught our eye include: Homestyle Chicken with Butternut Mac & Cheese, Cauliflower-Shell Bolognese with Ground Beef & Italian Cheeses, Chicken & Spring Pea Risotto with Mushrooms & Seasonal Herbs, and Pork Carnitas with Latin-Style Rice and Beans.
Freshly doesn't add artificial or chemical preservatives, so their meals have a shelf life of 4-5 days on the fridge. You can alternatively pop them in the freezer if you finally got that prized Instacart slot and want to eat them later.
Pricing: Freshly offers a tiered pricing depending on how many meals per week you want. For a couple on a budget, we find the sweet spot in their offer of 6 or 9 meals for $8.99/each. It is much less expensive than what it costed us go out to eat while we worked at the office, and it offers us the chance to have a dinner date night at home several times a week without breaking the bank.
How to order: To order, visit www.freshly.com and choose your meals by Thursday. Freshly will then cook them to perfection and deliver them on your doorstep the following week. Stack 'em on the fridge, heat them up when you fancy a good meal, and eat. Easy peasy.
The plus: Freshly ships to all five boroughs (and nationwide) and doesn't have shipping delays. We absolutely love that Freshly accommodates a variety of dietary preferences, and always offers an entirely gluten– and peanut–free menu. Customers can set their own dietary preferences and easily find the meals that work, which is a big plus if you have dietary restrictions like myself.
Silver Cuisine, Contact- Free Gourmet Meal Service For Seniors
We know that the average New Yorker can live on ramen and pizza leftovers for weeks. But we all have parents and it's only natural to be somewhat worried about them getting their groceries delivered. I personally wouldn't want my loved ones inside a supermarket if they had an underlying condition!
Silver Cuisine has been brought to our attention as a meal delivery service especially created for seniors. It sends chef-prepared, doctor-approved meals delivered to the doorstep of your hungry loved ones with plenty of options.
We personally like that Silver Cuisine was recently ranked by U.S. News & World Report as one of the Top Meal Delivery Services for Seniors. No horrible hospital cafeteria food here. Instead, they center their efforts around cost-effective menus with plenty of options, like Meatloaf with Honey Bourbon Glaze.
The Plus: No subscription is required, meals are delivered a la carte, and AARP members are eligible for exclusive benefits and discounts.
How to order: Just visit www.silvercuisine.com and place your order. Bear in mind that shipping to NYC will take 2 days, plus processing. Orders placed before 12 p.m. ET on Tuesdays are shipped and delivered that same week. Orders placed after 12 p.m. ET on Tuesday's shipped the following week. Silver Cuisine serves all the boroughs in New York City.
TERRITORY: Plant-forward meal delivery service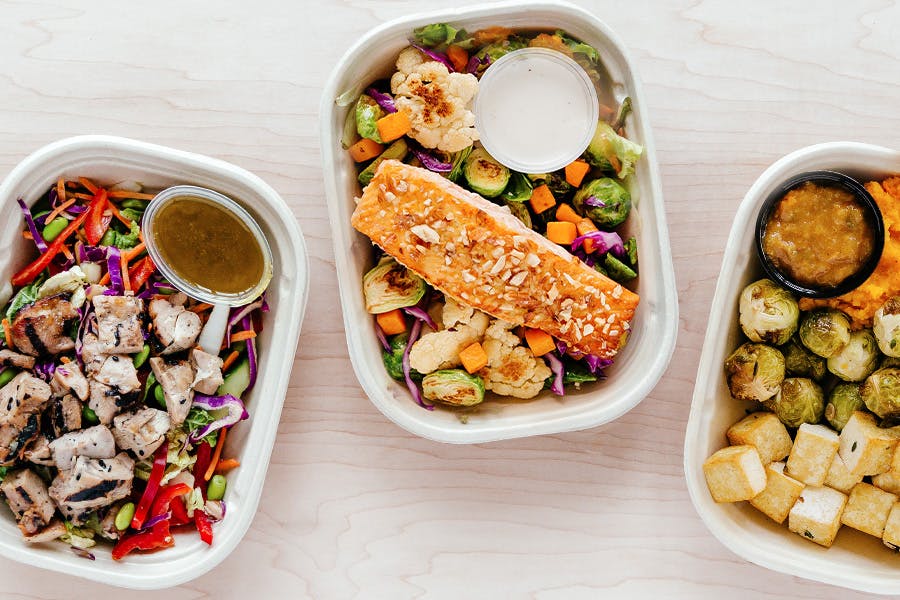 If you are looking for a meal delivery service that concentrates on the green goodness, check out TERRITORY. Cooked by local chefs and approved by nutritionists, this service allows you to personalize your weekly menu according to your unique nutrition preferences across a 73% plant-forward menu that changes weekly and varies by region.
TERRITORY features 10 main nutrition paths including Mediterranean, Vegan, Paleo, Keto, Whole30, etc, which allows you to make endless combinations. Meatless Mondays made easy, people!
Only meal delivery service that uses a dedicated team of real chefs in each region to prepare food, which is delivered fresh twice per week (never frozen). As customer demands grow, more chefs with more specialties are added to address broader needs.
How to order: Orders are due by midnight the week prior to the delivery. Just visit TERRITORY, check your local menu, and add your selections to your shopping cart. They offer both meal plans and custom orders, so you can order a la carte and as often or as little as you need. Pricing starts from $10.95+ per meal.
The Plus: TERRITORY is now offering $60 grocery boxes with fresh, rotating seasonal produce enough to feed a family of 4.
We hope this roundup helps you! We will update it as we receive more information. Please visit our other articles with ideas to support New York City during the coronavirus crisis:
New York Staples That You Can Support During The Quarantine
How To Enjoy New York From Home
Be safe and take care!
This post is informational only and does not include affiliate links.